Have you ever thought how your dusty attic could be converted into a nice bright child's bedroom, office or study? We can create something unique for you, you give us your ideas and let us finish the job. You will be amazed at how bright and spacious an attic can be.
Fundamentally there are two ways to convert an attic:
Velux Conversion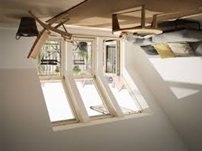 The roof stays the same shape and accommodation is created within the existing space. Here we use Velux roof windows, set into the existing roof line, to give natural light and ventilation.
Dormer Conversion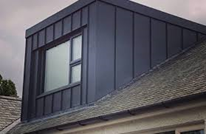 The roof may be extended by building dormers on the roof thereby creating more space inside. Dormers may be of different designs, e.g. flat or pitched roofed and vary in dimensions and finish.
No matter what you need, we can transform and build it for you.
Whatever your choice we will take care of the whole process from design through to completion – including plumbing and electrics. We can transform your home, adding space and value regardless of the function you want the room to serve once completed.
L&D Eco Building Ltd. IS THE LEADING LOFT CONVERSION BUILDER IN AND ACROSS DUBLIN
We specialise in one-of-a-kind loft conversion design and construction projects. Our unexpectedly economical projects are built in just a few weeks, based on designs created specifically for your needs. It's your fantasy Dublin loft conversion with the least amount of trouble and the greatest amount of satisfaction.
L&D Eco Building Ltd is the company to call for your loft conversion project.
At L&D Eco Building Ltd, we design and build several Dublin loft conversions, transforming them into beautiful spaces. Some Dubliners need more space for a growing family but cannot afford to move. Others are looking for that one room in the house that they can genuinely call their own. L&D Eco Building Ltd has everything you're searching for in a Dublin loft conversion.
Our goal is to take as much of the work and tension out of a loft conversion in Dublin as possible. We can handle the entire design and construction process, including all architectural drawings, planning approval, structural calculations, and construction, as well as providing you with a professional Project Manager.
We specialise in making every loft or attic conversion as straightforward and stress-free as possible. Are you thinking about selling your house and moving? If you are thinking about adding a loft conversion to your Dublin home, you should know that it can increase the value by up to 25%. That implies you'll most likely profit from your loft conversion in the long run. Loft conversions are among the most popular home improvements in Dublin. They are less expensive than moving, but they allow you to improve your living space.
Loft Conversions Come in a Variety of Styles
The L&D Eco Building Ltd staff recognises that no two loft conversions in Dublin are genuinely alike; not only because of the wide selection of property accessible around the city, but also because of the tremendous variety of people, tastes, and lifestyles. We work hard to personalise each loft conversion project to the client's demands and incorporate all they may require.
It could include the most recent bathroom suites and wet rooms on the market, as well as magnificent design elements that maximise natural light, such as skylights, Juliet balconies, and much more. You should talk about the type of loft conversion you want to invest in, such as a dormer loft conversion, an L-shaped dormer loft conversion, or a hip to gable loft conversion. We can also install staircases, built-in storage, and furnishings, as well as lighting and electrical services.
Get in touch with us immediately to begin your Dublin Loft Conversion.
Contact us today for a free site survey and to get started on your very own custom loft conversion. Discover our interactive map of Dublin below to see the locations we cover as well as some of our favourite case studies of loft conversions we've conducted near you.
You'll also find lots more information about the loft conversion planning process, loft conversion pricing in Dublin, loft storage ideas, case studies, an L&D Eco Building Ltd loft conversion gallery, and client testimonials on the site. This will give you a taste of the absolutely unique service that we provide.
If you believe L&D Eco Building Ltd can assist you in transforming your loft or attic space into something genuinely unique, please contact us now. If you desire a loft conversion in Dublin, you can be anywhere in Dublin. To schedule a free, no-obligation site survey of your home, please call +353 86 125 4160 or fill out an online request form. We will provide you with an affordable estimate for the work you require, and after you approve it, we will begin. That's all there is to it.
WHY SHOULD YOU CHOOSE US FOR YOUR ATTIC/LOFT CONVERSION?
Over the years, we have completed hundreds of home renovation projects, particularly loft conversions. We are pleased of each and every one of them for transforming unused attic space into lovely rooms for our clients and families. More space is frequently necessary in Dublin, where space is at a premium and the city is still a family metropolis. Perhaps you need that extra room for guests, a home office, or you want to develop your property for sale or rent. Whatever you choose to accomplish with your loft extension, L&D Eco Building Ltd Service has done it before and can do it for you.
Remember that these are fully finished and decorated to give you an idea of space, quality, and possible finish, but each house is unique, as are the building services we provide.
OUR BENEFITS FROM LOFT CONVERSIONS
Complete Loft Conversion Procedure
We manage the design and build for you, including planning approval, structural design, and building control, and your project manager will be on-site virtually everyday to oversee the work and keep you updated.
Craftsmanship of High Quality
Our work is guaranteed, but it will last much longer than that. We are primarily builders, and our teams are experts who prioritise quality – you will receive weekly inspections by the owner to ensure we deliver.
All loft conversions come with a ten-year warranty.
That's exactly what it says. We provide a warranty to protect you and your home from any defects caused by our work, so you don't have to worry. Furthermore, you will receive an independent certificate from the authorities proving that our work meets the permitted building standards.
Attic Conversions Increase Property Value
A loft or attic conversion with us can increase the value of your home by up to 25%, making it one of the best investments you can make.
IN DUBLIN, A QUICK GUIDE TO LOFT CONVERSIONS
No two properties in Dublin are alike, and neither are their owners. The same may be said of Dublin lofts, but having built hundreds of them, we at L&D Eco Building Ltd Service know a thing or two about them. Though the finish may differ for each client, the framework adheres to a few standard ideas.
We've set them out for you here so you can get a better understanding of them. During the free home consultation, we will assist you in selecting the best one for you and your home.
LOFT conversions IN DUBLIN
L&D Eco Building Ltd is a luxury loft conversion specialist in Dublin. With hundreds of elegantly designed and impeccably finished loft conversions conducted throughout the city over the last decade, you can be confident that there are no better loft conversions in Dublin than those provided by Buildeco.ie in terms of originality, skill, and care.
CREATIVITY, STYLE, AND CRAFTSMANSHIP
If you want to add an elegant new master bedroom with en suite, a light and airy art studio, a home office, or a playground for the kids to your roof space… If you want the sun to shine in through large double-paned Velux windows, a floor-to-ceiling glazed wall, or the doors to your balcony… If you need more head height, more space at home, or a somewhere to go for some peaceful 'me' time… Then our professional team of architects, interior designers, and tradespeople will make it a reality.
WHAT TO EXPECT FROM YOUR BUILDERS STEP BY STEP
Assessment
A member of our highly skilled design team will meet with you at your home to determine what is attainable and desired. They will be able to establish whether planning permission is required, the complexity of the project, and advice on feasible structural choices for your loft conversion.
Planning
If planning permission is required, as is sometimes the case with loft extensions in Dublin, our staff will generate all drawings and elevations required to offer your application the best chance of success, or we will work with your architects to aid in this process.
Project manager
Every project we work on will have a dedicated project manager from the start. They will oversee your project, organise all contractors and trades, and respond to any queries you may have along the process.
Building administration
If planning permission was sought and granted, the local authorities will, of course, send a building control officer to inspect the work as it advances. They will offer a completion certificate once the work is completed and they are satisfied.
Completion
The completion certificate from the building control officer will be added to a folder that we will present you with that contains all of the certificates we have obtained along the route, including gas and electrics, manufacturer's warranties, and our 15-year structural warranty.
TYPES OF LOFT EXTENSIONS
DORMER
The dormer loft extension provides significantly more usable space than a simple Velux conversion and provides maximum head height and considerable floorspace.
GABLE TO HIP
When your roof does not lend itself to the loft conversion you desire, our team of designers and builders will modify its structure to meet your requirements.
VELUX
One of the most basic loft conversions is one in which we make your current loft space habitable and utilise Velux windows to let light in.
MANSARD
This form of loft conversion covers the entire pitch of a roof for even more space. It's similar to a dormer conversion, but the vertical wall is 72 inches tall.
END-TO-END LOFT conversions SERVICE IN DUBLIN
When considering a loft conversion in Dublin or elsewhere in the capital, you will undoubtedly have a million questions – from complex planning permission, project timing, the amount of disruption to you and your neighbours, to the finesse of interior design – and Buildeco.ie is here to answer them all. Our end-to-end loft conversion service means that we are with you every step of the way, listening to your needs, carrying out your requests, and answering your questions, from the minute you phone to schedule an initial consultation to the day we complete your project.
WHAT IS THE COST OF A LUXURY LOFT CONVERSION?
We would love to present you with a straightforward cost chart, but it simply does not exist because each loft conversion project we work on is completely customised to our clients' strict demands. There will be constraints imposed by planning permission, the footprint of the property, and whether your home is in a conservation area or a listed building – all of which make our work more difficult, but we enjoy a challenge – but beyond this, it is entirely dependent on how vivid and expansive your loft conversion dreams are. What I can tell you of is our commitment to quote clarity and our track record of completing projects on schedule and within budget.